Per mile, flying is the safest form of travel. That said, fatalities and catastrophic injuries do occur regularly in accidents involving commercial airliners, helicopters, private planes, and other aircraft. Commercial flights have become safer over the years, with private aircraft or "general aviation" accidents responsible for a significant majority of aviation fatalities: an average of 549 deaths per year or 85 percent of the total annual aviation fatalities. These deaths occur in people flying recreationally, taking lessons, or flying for business purposes. While the overall number of aviation fatalities has been going down, helicopter crashes have increased, including news helicopters, Medivac helicopters, and sightseeing helicopters. Our aviation accident attorney in Charleston, WV is ready to take on your case and fight to secure compensation on your behalf.
Aviation Accident Resources
To immediately access the resources at any point on this page, click the corresponding link below.
Negligence as a Cause of Aviation Accidents
What Causes an Aircraft to Crash?
Common Injuries After an Aviation Accident
Liability for an Aviation Accident
Why Do You Need an Experienced Charleston Aviation Attorney?
Potential Compensation After a Plane or Helicopter Crash
Can an Aviation Accident Result in a Wrongful Death Claim?
How Much Time Do You Have to File an Injury Claim?
Speak to an Attorney Today
Negligence as a Cause of Aviation Accidents
Many times, crashes are the result of some form of negligence, whether on the part of the designer, manufacturer, owner, pilot, maintenance crew, air traffic control or others. When deaths and injuries occurring in aircraft crashes can be show to have been caused by negligence, the families of victims and injured survivors are entitled to make a claim to recover damages for wrongful deaths and injuries. A personal injury lawyer in Charleston, WV can evaluate your case and help you determine the next steps you need to take.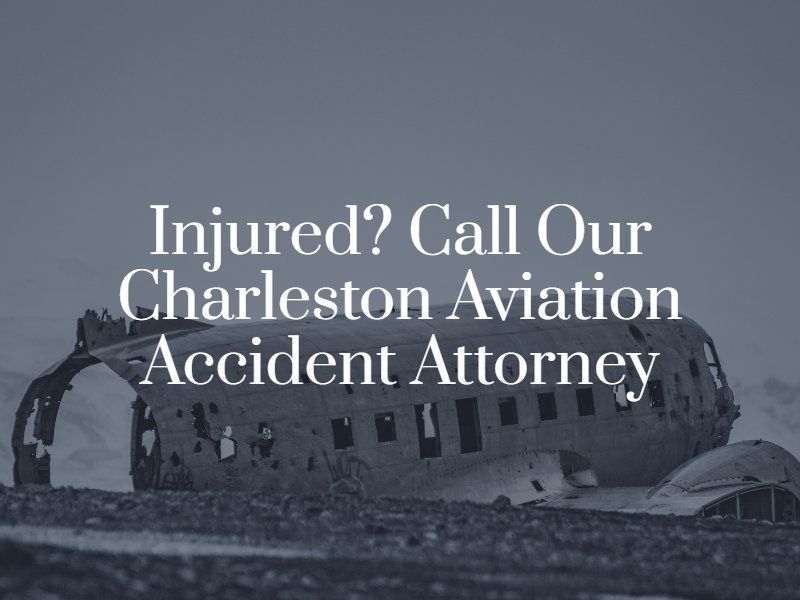 What Causes an Aircraft to Crash?
Aircraft accidents have many causes. This is a partial list of potential causes of crashes:

Pilot error
Air traffic controller error
Lack of training
Instrument failure
Mechanical failure
Tire failure
Defective landing gear
Improper loading
Fuel mismanagement
Inferior fuel quality
Mid-air collisions
Flying into rough weather
Design defects
Metal fatigue
Improper maintenance
Improper inspections
Inadequate airline security
Inadequate training
Pilot medical events
Dangerous runway or helipad conditions
Sabotage
Common Injuries After an Aviation Accident
Aviation accidents, whether in flight or from a crash, often cause severe injuries. Common examples include the following: 
Head Injuries
From a fall or when the head is hit by or thrown against an object, the force can result in a head injury, such as skull fractures, traumatic brain injuries, or brain damage. A moderate or severe brain injury can have a permanent impact physically, cognitively, and psychologically. 
Broken Bones
Depending on the severity of the break, it might require surgical intervention. 
Whiplash and Other Neck Injuries 
Whiplash is caused by the neck vertebrae being forcefully whipped back and forth, which can happen in a crash or if an airplane or helicopter suddenly jerks due to turbulence. Whiplash, in addition to other injuries, can damage the muscles, tendons, ligaments, or vertebrae in the neck, resulting in severe and long-lasting pain and stiffness, headaches, vision and hearing problems, and also emotional issues. 
Back and Spine Injuries 
Back and spinal cord injuries may occur in an aviation accident. A severe back injury can cause paralysis or a loss of feeling from the injury site downward. 
Internal Injuries 
The internal organs can be damaged, perforated, or lacerated in an accident when the organs slam against one another, into other structures of the body, or are penetrated by foreign objects. Internal injuries often require surgery and can be life-threatening. 
Catastrophic Injuries 
A catastrophic injury causes a victim to suffer long-term or permanent pain or disability—for example, a loss of the functionality of an organ or limb or a loss of limb. 
Burn Injuries
Aviation accidents often result in fires due to the combustibility of the aircraft's fuel and the friction of the brakes. 
Emotional Trauma
Accident victims often suffer psychological harm that can last much longer than a physical injury in some cases—for instance, post-traumatic stress disorder (PTSD), depression, anxiety, and insomnia. 
Each of these injuries has the potential to be incredibly serious and life-changing. It is critical to seek maximum financial compensation, as you will most likely have ongoing medical expenses, such as physical therapy and rehabilitation.
Who Can Be Liable for an Aviation Accident?
Individuals who survive an aviation accident have the right to hold the liable party responsible for damages. However, determining who is responsible can be complex and will depend on the cause of the accident. Here are examples of parties commonly named as defendants in aviation accident lawsuits: 
The Airline
Since airline companies are considered common carriers as it is a method of public transportation, they are regulated by federal and state common carrier laws and expected to exercise a heightened degree of care regarding passenger safety. Any violation of their legal duty subjects them to liability. Therefore, passengers can hold an airline responsible if they are injured in a preventable accident.  
The Pilot
A pilot can be liable for a passenger's aviation injury if their negligence or error contributed to or caused it. Examples of pilot negligence include failure to conduct routine safety checks, miscommunications with air traffic control, failure to monitor speed, navigation errors, etc. accurately.
The Plane's or Part's Manufacturer
A manufacturer can be liable if any injuries are caused by a defect with the plane or its parts.  
The Owner of the Plane
A plane's owner is sometimes different from the airline company or pilot. When that is the case, and if they have some degree of control over the operation and maintenance of the aircraft, then they may be liable for an accident.
Air Traffic Control and the FAA
Air traffic controllers can be liable for an aviation accident if they caused or contributed to it, for instance, by making an error in communication or mistiming takeoffs and landings. The Federal Aviation Administration (FAA) can also be vicariously responsible for their actions since most air traffic controllers work for the FAA. 
There will be multiple liable parties in many cases, but each accident is unique and liability will depend on how it was caused. 
Why Do You Need an Experienced Charleston Aviation Attorney?
Demonstrating whose negligence was responsible for an aviation accident is typically extremely complicated and is not something that can usually be handled by anyone lacking specific aviation accident experience. Successful litigation of an aviation accident claim requires an attorney who understands state, federal, and sometimes international aviation laws, policies, and regulations as well as having access to specialists in the technological aspects of aviation.
Air crashes are investigated by the government, and the findings are often shared with lawyers for the survivors and families of the deceased crash victims. If you have been injured or have lost a family member in a crash, your lawyer will need to be able to bring in experts to demonstrate who was responsible and show how that party failed to meet industry standards, whether in design, manufacture, maintenance, inspection, or other function related to the operation of the aircraft.
Potential Compensation After a Plane or Helicopter Crash
Injury victims have the right to recover compensation after a plane or helicopter crash caused by another party's negligence. The amount of compensation a victim is entitled to can vary case by case, but the most common types available include the following: 
Economic Damages
Compensation for actual financial losses, such as:
Current and Future Medical Bills

: Reimbursement for any treatment you received after the accident and any medical care you are anticipated to need in the future.

Current and Future Lost Wages

: Any income you lost due to missing work while recovering from your injuries. 

Diminished Earning Capacity

: If you can no longer work or must enter a different line of work due to your injuries, you can recover compensation for the difference in income. 
Non-Economic Damages
Compensation for losses that do not have an actual monetary value. For instance:
Pain and Suffering

: Compensation for the physical pain and suffering you must endure. 

Emotional Distress

: If you experienced any psychological conditions resulting from the accident, such as PTSD, terror, anxiety, shock, depression, sorrow, insomnia, etc.

Loss of Enjoyment of Life

: If your injuries limit your daily activities or any other things you previously could enjoy.     

Loss of Opportunity

: The loss of hypothetical opportunities that could have materialized had you not been injured. 

Loss of Consortium

: Compensation a spouse can recover if their relationship with the victim has been impacted by their injuries, such as a loss of companionship or sexual relations. 

Disability

: Compensation for a permanent injury that interferes with physical activities. 

Disfigurement

: If your injury leaves you permanently scarred or disfigured, leading to mental anguish or embarrassment. 
Punitive Damages
This type of compensation is only available in cases involving a defendant (at-fault party) who exhibited an extreme disregard for the safety of passengers. Punitive damages are intended to punish the defendant and deter others from similar behavior. 
Can a Charleston, WV Aviation Accident Result in a Wrongful Death Case?
When a loved one is killed in an aviation accident caused by another party's negligent actions, it is called a wrongful death. Therefore, under West Virginia law, the personal representative of the deceased's estate can file a Charleston, WV wrongful death lawsuit on behalf of the surviving family. The party responsible for the accident can be held liable for any medical bills and expenses incurred by the deceased prior to death, funeral and burial expenses, loss of expected income and benefits, loss of services, loss of inheritance, and more.           
How Much Time Do You Have to File an Injury Claim?
Each state has a law referred to as the statute of limitations, which dictates the amount of time aviation injury victims have to pursue a claim. Under West Virginia law, the deadline is two years in most cases. This timeframe begins on the date the accident or death occurred. If you fail to file a claim before the deadline, you will lose your right to pursue compensation. As a result, it is best to speak to an attorney and begin the claims process as soon as possible.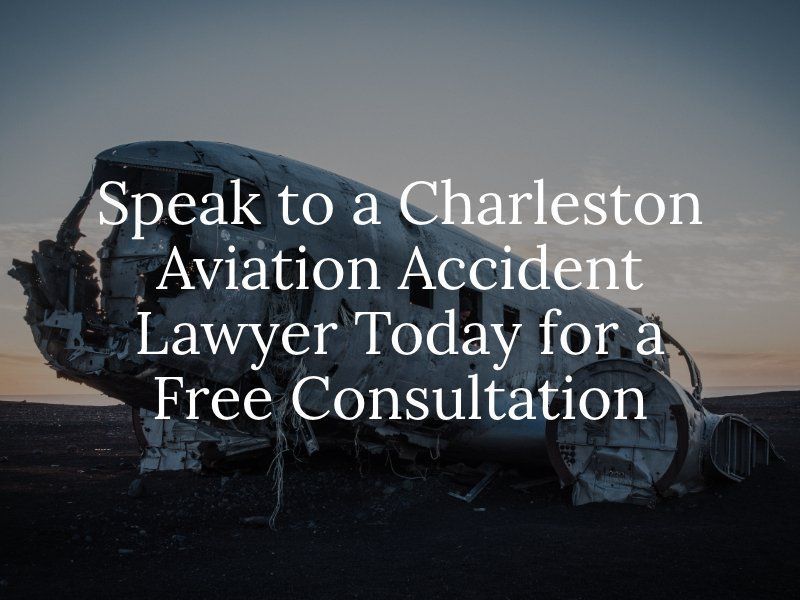 Charleston, West Virginia Aviation Accident Lawyers
For the experienced legal representation that you need following an aircraft crash that has left you seriously injured or resulted in the death of a member of your family in Marion, Fairmont, Clarksburg or Harrison County, turn to the aviation attorneys at the Tiano O'Dell law firm. We have successfully handled various types of aviation accident injury and wrongful death and are committed to providing knowledgeable, skilled, and aggressive legal counsel to those who have been affected by these tragic accidents. We are committed to discovering the cause and identifying responsible parties and holding them accountable for the suffering and economic losses they've caused. We fight tirelessly to obtain fair and just compensation for both commercial and general aviation accident victims and to deter such careless and negligent behavior from happening in the future.
Many victims are in a state of shock following a loss in an aircraft accident and are unsure of what they need to do to protect their rights. At Tiano O'Dell, we will meet with you at no cost to review the circumstances of the crash and advise you on the best way to proceed to ensure that justice is done. We have aviation engineers and other experts on call to assist with the analysis of the available data and to testify on your behalf in depositions and, when necessary, at trial.
Aviation cases require an enormous amount of time-consuming investigative and analytical work, so it is important to bring the attorneys at Tiano O'Dell on board as soon after the crash as possible. Call our aviation and car accident attorney in Charleston, WV or contact us online today.