Spinal cord injuries are unlike any other type of injury and can have lifelong impacts on victims and their families. These severe injuries are often permanent and debilitating. Spinal cord injuries can require lifelong medical care, disability accommodations, and injury-related expenses. Unfortunately, spinal cord and other catastrophic injuries can be life-altering, and injured parties have to learn to cope with new lifestyle challenges. The Charleston spinal cord injury attorneys at Tiano O'Dell, PLLC, represent clients in spinal cord injury claims.
We know that spinal cord damage is often the result of someone's negligent, reckless, or intentional conduct. If you or a loved one has suffered harm due to someone's misconduct, you may be entitled to compensation for your injuries and damages.  
How We Address Spinal Cord Injury Cases
Our Charleston, WV personal injury attorneys focus on case results and recovering maximum compensation for every client. We will never look for a quick settlement that does not fully compensate you for your losses. Our attorneys ensure that every case is trial-ready so that we can present your claim to a jury if the defendant does not agree to reasonable settlement terms.

We use cutting-edge technology and top-of-the-line resources for our personal injury claims. We have a wealth of professional contacts that we use for consultation and expert testimony. For example, we sometimes use experts for accident reconstruction, medical opinions, and financial testimony. 

Our attorneys understand how important your case is to you, which makes your case important to us. We will return all of your calls, address all of your concerns, and keep you informed throughout the legal recovery process. You will never feel like a number when we are handling your claim.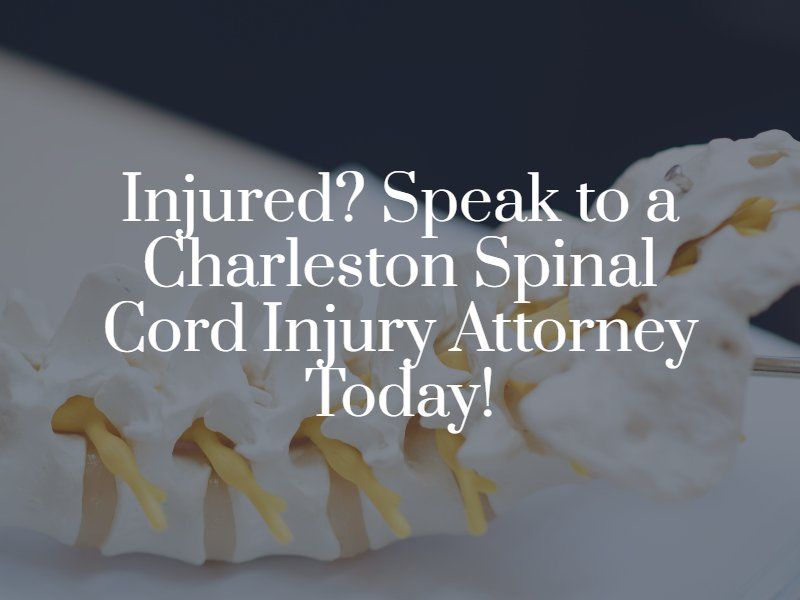 How We Can Help
Spinal cord injuries often result in long-term and permanent injuries requiring lifetime medical care. The total costs of treating a spinal cord injury can be financially devastating. We have the necessary resources to help evaluate your injuries and accurately calculate your past, ongoing, and future accident-related losses. Compensation for spinal cord injury claims may include lost wages, future lost earnings, medical costs, pharmaceutical costs, future medical expenses, pain, suffering, and disability. 
Types of Spinal Cord Injury Cases
Spinal cord injuries are complex, and proving these claims often require expert consultation and testimony. As mentioned above, our attorneys have the resources and expert contacts necessary to successfully pursue spinal cord injury claims. We handle all types of spinal cord and catastrophic injury cases, including car accidents, bicycle accidents, slip and falls, workplace injuries, pedestrian accidents, swimming pool injuries, and surgical negligence. We also represent surviving family members in wrongful death claims when spinal cord injuries are fatal. 
What Are Common Causes of Spinal Cord Injuries?
Spinal cord injuries can cause disabilities such as paralysis, and even death in severe cases. Many types of accidents can cause spinal cord injuries including but not limited to:
Car accidents and other motor vehicle accidents
Workplace injuries
Sports injuries
Birth injuries
Long Term Effects of Spinal Cord Injuries
Trauma to the spine can have many long-term effects on a victim's life, including the following: 
Chronic Pain

: No matter how extensive and the quality of treatment, victims can still live with agonizing chronic pain. 

Reduced Mobility

: Most people with an SCI experience some degree of reduced mobility. 

Reduced Bladder and Bowel Control

: The nerves that control the bladder and bowels can also be affected when the spinal cord is damaged.  

Fertility Issues

: The spinal cord is responsible for sending signals from the brain to the reproductive organs to produce eggs or sperm.

Difficulty Breathing

: If the autonomic nervous system on the spine is damaged then it can impair the ability to breathe properly.

Temperature Regulation

: The spinal cord regulates body temperature, and when there is damage, the messages to the body can get mixed up or lost entirely. 

Mental Health

: Spinal cord injuries can severely impact quality of life, leading to psychological conditions such as depression, anxiety, or PTSD. 
Additionally, the average yearly and lifetime costs associated with a spinal cord injury can be significant. 
Who is Liable in Spinal Cord Injury Cases?
Who is liable in your spinal cord injury case will depend on its unique circumstances. However, any party who contributed to or caused your injury can be liable. The first step to holding a party accountable is identifying the one or multiple parties who are responsible. A spinal cord injury lawyer can do this after investigating your accident. 
Spinal cord injury cases typically rely on the theory of negligence, which is a person's failure to act reasonably. Your attorney will look for evidence demonstrating a party was negligent and, therefore, liable. The following four elements are required to prove negligence: 
The at-fault party owed you a duty of care.

The at-fault party breached their duty of care.

The breach of care directly caused your injuries.

You suffered damages (e.g., medical bills, lost income, pain and suffering, etc.).
Examples of potentially liable parties include another driver if your spinal cord injury was caused by a car accident, a physician who committed medical malpractice, a manufacturer of a defective product, a property owner who allowed a dangerous condition to exist on their property, which led to your injury, etc. 
Compensation in Spinal Cord Injury Cases
A spinal cord injury can have a devastating financial impact on a victim's life in addition to the physical. Therefore, you may be entitled to significant compensation for:
Current and Future Medical Expenses:

Hospital bills, rehabilitation costs, prescription medications, extended or live-in care, specialized medical equipment, etc.

Home Modifications:

If necessary, for a permanent disability.

Lost Wages and Benefits:

While you are recovering.

Diminished Earning Capacity:

If you cannot earn the same level of income as before the accident.

Property Damage

: The repair or replacement of any property damaged in the spinal cord injury accident.

Pain and Suffering:

For the physical pain you have had and will continue to endure. 

Loss of Enjoyment of Life:

If you cannot participate in activities you used to enjoy doing before the accident. 

Wrongful Death

: If a loved one is killed due to the spinal cord injury they suffered, surviving family members can file a wrongful death claim to recover compensation for funeral and burial expenses, lost income, loss of services, companionship, and more. 
In cases where a defendant (at-fault party) acted egregiously or exhibited gross forms of negligence, the court may also award punitive damages. 
Contact Our Charleston Spinal Cord Injury Attorney
After a spinal cord injury accident, you need an attorney to help you pursue the compensation that you deserve. The attorneys at Tiano O'Dell, PLLC, will meet with you to discuss your accident, go over your losses suffered, and answer any questions you have about the legal process. From Charleston, WV truck accident lawsuits to slip and fall incidents, we are ready to take on your case. We know that you and your family have been through a lot, and we want to help. Contact our office to schedule a free consultation today.