West Virginia Personal Injury Attorney
---
Tiano O'Dell, PLLC is a Charleston, West Virginia-based law firm devoted to helping residents throughout the state recover after devastating injuries. West Virginia personal injury attorneys and firm founders William Tiano and Tony O'Dell have been recognized for their hard work and professionalism: they have been named as Top 100 Trial Lawyers by the prestigious American Trial Lawyers Association and have been designated as West Virginia Super Lawyers. Cheryl Fisher has years of experience representing insurance companies and brings that particular expertise to the table. They truly believe that injured clients deserve to be compensated for harm imposed by the negligence of others and that the families of deceased victims should be properly and generously compensated for their losses.
West Virginia Personal Injury Resources
Why Hire a West Virginia Personal Injury Lawyer?
Many people assume that they can handle the insurance companies by themselves following an accident. Unfortunately, insurance company representatives do not have your best interests at heart. Insurance companies seek to pay out as little on your claim as possible and may take advantage of the fact that you don't know how much your claim is worth. Our Charleston personal injury attorneys have years of experience in negotiating with insurance companies and will not stop fighting for your right to fair compensation under the law – even if it means taking your case to trial. Sometimes, the simple act of getting a personal injury attorney involved is enough for an insurance company to take your claim more seriously.
What is a Personal Injury Claim?
When a person suffers harm as the result of another person's wrongdoing, he or she may be able to file a claim for damages under West Virginia law. Tort law, allows a person to appear in civil court for the purpose of gaining a financial remedy for the losses stemming from the incident. The purpose of a personal injury claim is to attempt to allow a person to be "made whole," at least financially, following someone else's negligence.
What Types of Cases Does Our West Virginia Law Firm Handle?
An injury case can arise at any time due to careless, negligent actions that have caused harm to someone else. We handle a variety of cases from auto mobile accidents to coal mining accidents. These types of cases can happen at any time in West Virginia. At Tiano O'Dell, our team has experience handling a variety of personal injury cases including:
Bicycle accidents
Brain Injuries
Bus accidents
Car accidents
Construction accidents
Defective products
Dog Bites
Drunk driving accidents
Industrial accidents
Medical malpractice
Motorcycle accidents
Nursing home abuse
Premises liability
Product liability
Truck accidents
Workplace injuries
Wrongful death
A personal injury lawyer at Tiano O'Dell will guide you through the legal process of filing a claim and secure the compensation you deserve.
How Much is My Personal Injury Claim Worth?
One of the most common questions we hear in a consultation is "How much is my claim worth?" The value of an injury claim is determined by several factors, including:
Economic Loss
Also referred to as "special damages," economic damages help compensate for physical loss after an accident. Economic losses include tangible expenses such as medical bills, lost wages from missed work, and any future rehabilitation costs.
General Damages
Also called "intangible losses," these types of damages help to compensate for the immaterial losses after an accident. Common examples include things like pain, suffering, emotional distress, and loss of partnership and consortium in the case of wrongful death.
In order to find out how much your injury claim is worth, a West Virginia personal injury lawyer must first review your personal injury case. At Tiano O'Dell, we will review your unique situation and help you recover fair compensation from the at-fault party.
What Do Personal Injury Claims Cover?
Personal injury claims can apply to a wide variety of situations. West Virginia laws apply whenever someone acts in a careless manner involving incidents such as car accidents, premises liability claims, or medical malpractice. Others include:
Intentional Acts
You may also be able to file a civil claim against a party when the defendant's international conduct causes harm to another person. Examples of these intentional acts include homicide, assault, and battery, or other criminal acts.
Defective Products
Manufacturers, distributors, and retailers must use reasonable care in producing and testing products. If they create or sell a product that injures another person, they may be liable for damages that result under product liability law. Finally, you may have grounds for a personal injury claim if another person's defamatory statements damage your good reputation.
For more information regarding what injury claims cover, speak to our knowledgeable West Virginia personal injury lawyers. We offer free initial consultations to all of our clients.
West Virginia Statute of Limitations
In West Virginia, a personal injury lawsuit has a time limit of 2 years from the date the injury occurred. Once this period has passed, the court will likely refuse to hear your injury case. It is important to start your personal injury claim as early as possible.
West Virginia Negligence Laws
The general laws of personal injury dictate that several principles must apply for a plaintiff (or claimant) to collect damages from a defendant (or person committing negligence). These basic principles include:
Duty
A defendant must owe a plaintiff a duty of care. For example, drivers owe a duty of care to all other motorists on the road.
Breach
Secondly, the defendant must breach their duty of care, or commit negligence. Using the example of a car accident, a person may breach his or her duty of care by breaking traffic laws.
Causation
The claimant must prove that the defendant's breach directly led to their serious injury.
Harm
Finally, the plaintiff must show that he or she suffered harm as a result. Other factors might affect your ability to collect compensation in an accident. For example, West Virginia Code 46-4-406 outlines the idea of comparative negligence, which holds that a plaintiff might experience a reduction in damages if he or she shares fault for an accident.
Who Creates Personal Injury Laws?
The practice of tort law is wide in scope, and many laws date back to "common law," which refers to a time when judges, not legislatures, made the rules. When a judge makes a ruling on a case, he or she sets a precedent, which becomes binding to all courts lower than the judge's jurisdiction. This is how common laws emerge, and how many personal injury laws first came into being. Today, however, personal injury laws vary from state to state. While many of the common laws still exist, both federal and state legislatures pass new statutes that apply to personal injury issues. Workers' compensation laws serve as good examples.
Successful Client Representation in West Virginia
Successful legal representation is a result of years of study and years of practice in and out of the courtroom. If you choose to work with the West Virginia personal injury attorneys at Tiano O'Dell, PLLC, you can rest assured knowing that:
We answer and return your calls and keep you abreast of your case. We like to keep you informed. We know how important your case is to you.
If we are offered a settlement from an insurance company, we will always tell you first and ask for your permission and approval.
We utilize the skills of experts, such as medical experts, accident reconstruction engineers, and forensic scientists when appropriate.
We will always prepare your case for trial. We will not be intimidated by, nor bow down to insurance companies. Because we prepare every case for trial, they know we are serious.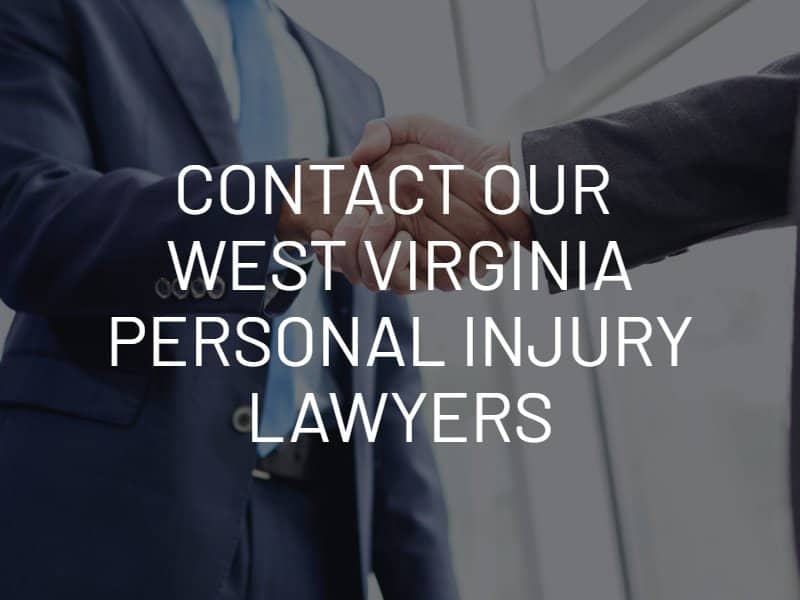 Free Consultation with our Personal Injury Lawyers in West Virginia
If you or a loved one were injured by the negligence of another person or business, or because of a defective product, or for any other reason, contact Tiano O'Dell, PLLC for a free case evaluation. Our legal team will help you understand your options and possible courses of action. The consultation costs nothing and the conversation is confidential. Compensation may be available in the form of medical treatment, lost income, pain and suffering, property damage, and more. We are available by email or phone. Call our Charleston, West Virginia personal injury law firm today at (304) 720-6700 for your free consultation.
Areas We Serve in West Virginia