Amputation injuries are devastating in so many ways. Our Charleston, WV amputation injury lawyer understands that an individual who has suffered this type of wound may experience:
Physical pain & suffering – physical pain, physical hardship, loss of ability to walk, reach, grasp and more
Emotional pain & suffering – the devastation from losing a limb normally brings great sorrow, depression, inner pain
Psychological harm – the mind has to deal with and adjust to a body that is without a limb that it has had forever
Loss of vocational capability – in a great many amputation cases, the injured party is unable to continue work in the same field and must be trained to work in a different vocation
Social harm – losing a limb may create social embarrassment and feelings of low self-esteem in social settings
Financial damages – amputation injuries are extremely expensive; prosthetic limbs and therapy costs continue as the body changes
If you lost a limb in an accident in that was caused by another's negligence, we can help you seek compensation for your medical expenses, pain and suffering, rehabilitation, therapy, prosthetic limbs and other costs in a personal injury lawsuit. Tiano O'Dell, PLLC has the experience, resources and knowledge to help you receive maximum compensation for your injuries.
Why Choose Tiano O'Dell for a Charleston Amputation Injury Case?
We understand the devastating nature of an amputation injury and how critical it is for you to recover maximum compensation.
With over two decades of experience, our Charleston, WV Amputation Injury Attorney knows what it takes to win.
Our founding partners, William Tiano and Tony O'Dell, have been recognized as Top 100 Trial Lawyers by the American Trial Lawyers Association and West Virginia Super Lawyers.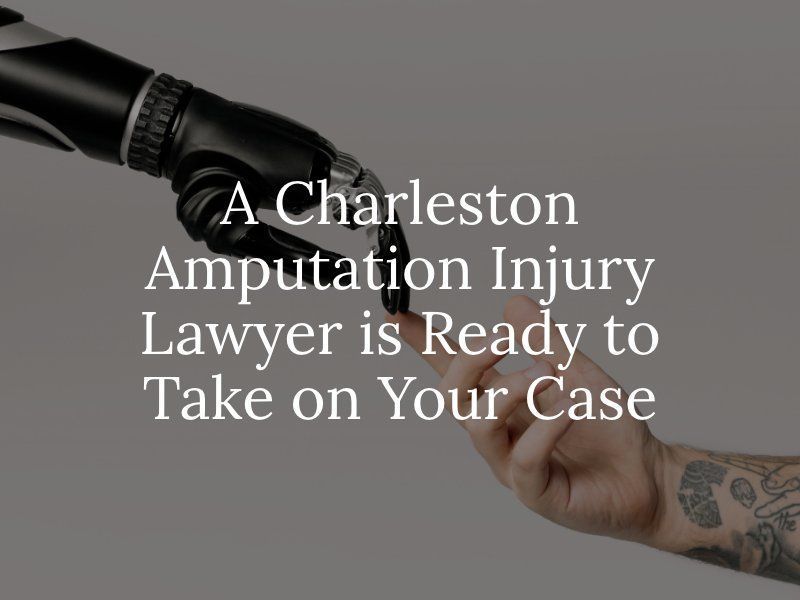 Charleston Amputation Injury Resources
To immediately access the resources at any point on this page, click the corresponding link below.
Trauma-Related Charleston Amputation Injuries
How Do Amputation Injuries Occur?
Bureau of Labor Statistics Amputations Study
Liability for Amputation Injuries
How Our Attorney Can Help
What Compensation May Be Available in an Amputation Case?
Compensation for Wrongful Death Amputation Cases
Call an Attorney Today
Trauma-Related Charleston Amputation Injuries
A trauma-related amputation injury may result from a sudden and unanticipated accident, such as car, truck, motorcycle, bicycle or pedestrian accident, or a workplace accident. According to the National Limb Loss Information Center:
Upper-limb amputations accounted for the great majority – 68% – of all trauma- related amputations during the period of their research study. While this is not a universal statistic, it is revealing.
Males experienced a significantly higher number of trauma-related amputations than females.
As individuals age, the risk of traumatic amputations increased steadily.
How Do Amputation Injuries Occur?
The most common causes of unexpected amputation injuries are as follows:
Traffic accidents (e.g., car, truck, pedestrian, bicycle, train, and motorcycle crashes)

Workplace/factory/construction accidents

Agricultural accidents (including lawnmowers)

Firearm/explosives/fireworks accidents (includes military casualties)

Electrocution accidents

Defective and dangerous products, especially heavy machinery

Severe burn injuries that damage the nerves, muscles, and bones

Dog bites and animal attacks 
Of the causes listed above, motor vehicle accidents are by far the most common cause of medically necessary traumatic amputations. 
Bureau of Labor Statistics Amputations Study
Additionally, in a well-established 2003 study conducted by the Bureau of Labor Statistics, it was revealed that:
On average, every year there were 21 fatal and 11,000 nonfatal workplace amputations
53% of the amputations occurred in manufacturing
Operators, fabricators and laborers had the highest number and rate of amputations
Trauma-related amputations are devastating, life-altering events. As plaintiff's rights personal injury attorneys in Charleston, Tiano O'Dell, PLLC will aggressively fight to help you receive the compensation you deserve for an amputation that was caused by another person, corporation, entity or defective product.
Liability for Amputation Injuries
Liability for an amputation injury will depend on the cause of your accident. For instance, if your amputation resulted from a car accident caused by another driver, you have the right to hold the at-fault party responsible. Whereas, if your amputation injury occurred in a construction accident, you would be entitled to file a workers' compensation claim for benefits. In addition to workers' comp, if a third party contributed to or caused your accident, you can pursue further compensation in an amputation injury claim. As a result, who is liable will depend on the specific facts unique to your accident. 
How Our Attorney Can Help With Your Charleston, WV Amputation Case
It is always in your best interests to hire a lawyer for a personal injury claim, especially if it is related to an amputation injury. The recovery process can be lengthy regardless of the type of amputation you have suffered. While you focus on healing, a trusted amputation injury attorney can ensure that the wrongful party is held accountable and will also handle every aspect of your claim, including: 
Filing the necessary paperwork and meeting deadlines

Investigating the cause of the accident to determine all liable parties and gather evidence to prove fault. That may involve visiting the scene, taking photos, obtaining surveillance footage and accident reports, speaking to witnesses, retaining experts, and more.

Ensuring that you are evaluated by a trusted medical provider who can assess the full extent of your injuries and the long-term impact on your life. 

Obtaining all documentation related to your injury, such as medical records, pay stubs, or tax returns to prove lost income, etc. 

Hiring accident reconstruction experts and other expert witnesses, if necessary, to support your case. 

Accurately estimating the value of your claim and negotiating with the insurance company to recover fair compensation that fully covers your expenses and the anticipated future costs of your injury. 

Fight for your rights in court if you are unable to reach a settlement agreement with the insurers. 
Insurance companies are not obligated to agree to a fair settlement and will look for ways to avoid liability. While coping with a life-changing injury, the last thing you need is to deal with an insurance adjuster who is trying to reduce or eliminate your compensation. An experienced amputation injury lawyer understands how insurance companies work and will handle all communication and negotiations. With their experience and resources, you can have the peace of mind that they will not back down until your long-term needs are protected. 
What Compensation May Be Available in an Amputation Case?
After an amputation injury, you may be entitled to significant compensation. The following types of compensation are often available: 
Medical Expenses

: Current and future medical care, including emergency care and transportation after the accident, surgeries, hospitalizations, rehabilitation, in-home care, prescription medications, prosthetics, other adaptive medical equipment, home modifications, and any other costs for medical care and future treatment. Your attorney may call on a medical expert to explain the extent of your injury, how it limits your everyday activity, the level of pain you experience, and how it will permanently impact you in the future. 

Lost Income

: Any current and future lost wages from being unable to work while recovering from your amputation injury accident.

Diminished Earning Capacity

: Also known as lost earning potential, which is compensation for the difference between what you can earn now and the income you could have earned if you had not suffered an amputation injury. 

Pain and Suffering

: Compensation for the physical pain, discomfort, and disability you have and must continue to endure.

Emotional Distress

: Compensation for any psychological conditions caused by the accident and amputation injury, such as PTSD, anxiety, depression, insomnia, etc.

Punitive Damages

: These damages are rarely awarded as they are reserved for cases involving a defendant (at-fault party) who behaved egregiously or with an extreme disregard for the safety of others. The court will award punitive damages in these cases to punish the defendant and warn others against similar behavior.  
The goal of an amputation injury lawsuit will be to provide you with sufficient compensation for your current losses, but it is even more critical to recover enough compensation for anticipated long-term financial losses due to your injury. Amputation injury cases often have a high settlement value due to the catastrophic nature of the injury. However, your case's worth can only be determined by unique factors, such as the cause of the accident, whether you contributed to it, the extent of your financial losses, and the injury's impact on your life. 
Wrongful Death Compensation 
When an amputation injury accident causes a wrongful death, the personal representative of the deceased's estate can pursue a Charleston, WV wrongful death claim on behalf of surviving family members. The types of compensation typically available in an amputation injury wrongful death claim include:
Medical expenses incurred due to the deceased's injury prior to death

Funeral and burial expenses

Loss of expected income and benefits

Loss of companionship

Mental suffering

Loss of provided services

And more
If the defendant acted maliciously or extremely reckless, punitive damages may also be awarded.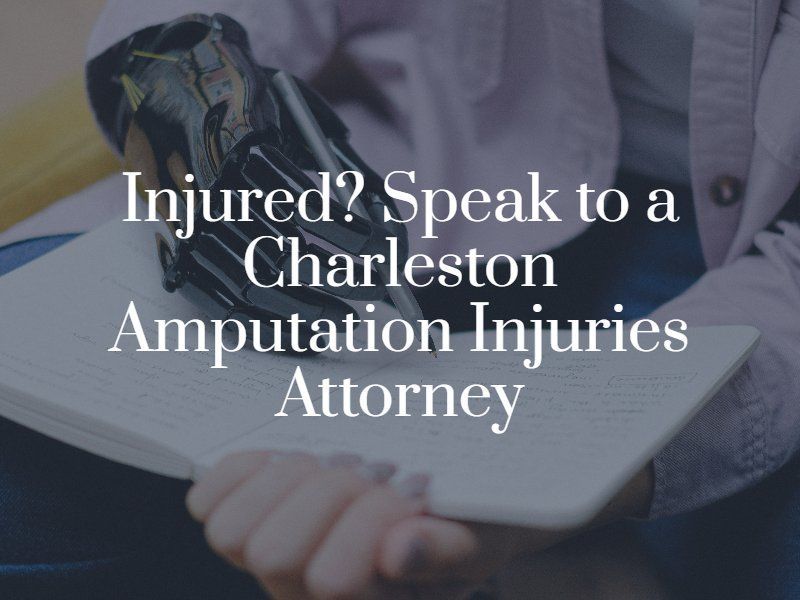 Speak to a Charleston, West Virginia Amputation Injuries Attorney Today
Tiano O'Dell, PLLC realizes how important it is for you to receive the proper medical treatment, rehabilitation, prosthetic devices and therapy so that you can proceed in your life in a productive manner. If you lost a limb in a Charleston, WV car accident that was caused by another driver's negligence, a defective product, a boating accident or any other reason, the Charleston personal injury attorneys at Tiano O'Dell, PLLC will seek the maximum compensation possible. We hire medical consultants and life planners and look at present and future medical expenses and treatment, costs for prostheses, lost earnings, your former, present and future earning ability, and much more in an effort to arrive at an accurate and fair compensatory amount.
The Charleston, WV attorneys at Tiano O'Dell, PLLC are recognized as West Virginia Super Lawyers and as Top 100 Trial Lawyers and we will use our skills and experience in an effort to help you. There are no fees unless we win your case. To schedule your complimentary consultation, call Tiano O'Dell, PLLC at (304) 720-6700 or contact us online.