Construction sites are dangerous, and construction workers suffer more injuries and fatalities at work than those who work in other industries. Because of the risks and dangers involved, there is no room for error when it comes to construction site safety. Construction injuries are often severe and catastrophic. Workers' compensation benefits are usually available to employees who have been injured on the job, but those benefits generally will not cover all of your injuries and damages. However, third parties, such as subcontractors, inspectors, or other site visitors, are often responsible for construction accidents and injuries. Our construction accident attorney in Charleston is prepared to investigate your case and fight for a fair recovery for the damages you suffered. 
If a third party is responsible for your accident and injuries, you may be able to recover additional compensation under a personal injury claim. If third-party negligence led to your construction site accident, an attorney with experience in construction site injuries can help you get the compensation that you deserve. The attorneys at Tiano O'Dell, PLLC, represent those who have been injured and lost loved ones in construction site accidents. Contact us to schedule a free consultation to discuss your accident and injuries sustained. 
Charleston Construction Site Accident Resources
To immediately access the resources at any point on this page, please click the corresponding link below.
Why Choose Our Construction Accident Attorney?
Common Construction Accidents & Injuries
What Laws Protect Injured Construction Workers?
How An Attorney Upholds Your OSHA Rights
What Our Lawyer Can Do to Help
Who Can Be Held Liable After a Construction Accident?
Construction Accident Compensation
Personal Injury Claims vs. Workers' Compensation Claims
Contact a Lawyer Today
Our Charleston Construction Site Accident Practice
Our Charleston personal injury attorneys know construction injury law, and we have been helping clients recover compensation for their construction accident injuries for more than two decades. Our attorneys have the experience and knowledge necessary to provide our clients with high-quality legal advocacy.

We pursue maximum compensation for all of our clients, and we fight for the justice that they deserve. When someone's negligent or reckless conduct leads to a construction site accident, they deserve to be held accountable for all resulting injuries and damages.

As mentioned above, workers' compensation benefits may cover some of your injuries and damages, but probably not all of them. Our attorneys have the resources necessary to conduct a thorough investigation to determine the cause of your accident and all parties who bear responsibility for your losses.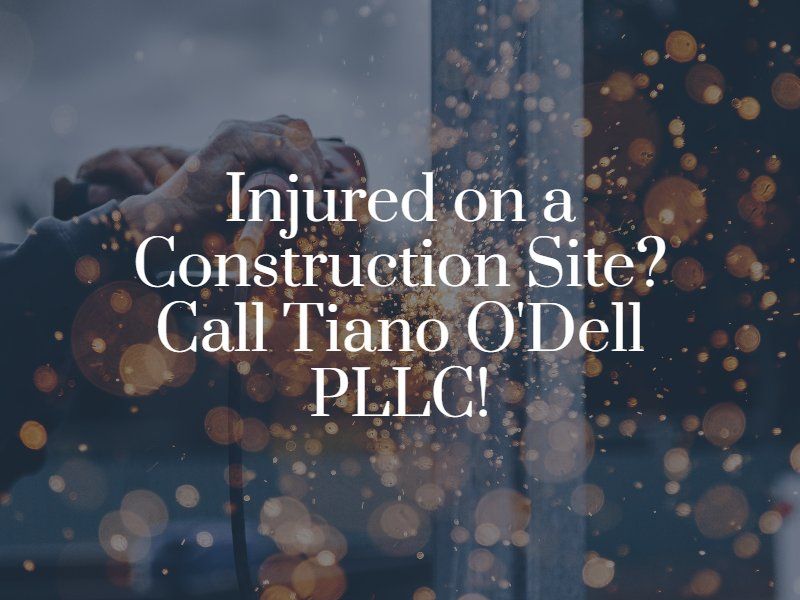 Common Types of Construction Accidents and Injuries
The four most common types of construction accidents include falls, being struck by an object, being caught in between two objects, and electrocution. Other common accidents and factors include exposure to toxins, equipment defects, and failing to follow appropriate safety standards. Unfortunately, Charleston construction accidents often result in severe and catastrophic injuries, requiring extensive medical care and expenses. In some cases, these injuries can be permanent or fatal. 
What Laws Protect Injured Construction Workers?
Due to the high risk of severe injuries and fatalities in the construction industry, workers are afforded special protections under federal and state laws. The Division of Occupational Safety and Health (OSHA) oversees state and federal safety guidelines. Under OSHA's laws and regulations, employers have a legal duty to ensure that they are taking all reasonable precautions to ensure the safety of their workers. As a result, a construction worker can hold an employer legally responsible for an accident if there was a violation of OSHA's health and safety regulations or intentional harm. 
Additionally, most construction employers are required by law in West Virginia to carry workers' compensation insurance. If they fail to purchase coverage when required, an injured worker can sue an employer for damages. 
How An Attorney Upholds Your OSHA Rights
Despite construction workers' rights to work in a safe and healthful environment, many employers routinely violate safety protocols established by OSHA. As a result, an OSHA violation can be substantial proof of negligence when a worker is injured on the job. However, an injured worker must be able to demonstrate that the violation was the direct and proximate cause of their injuries. An attorney can ensure your OSHA rights are upheld. They are well-versed in OSHA's laws and regulations and can help you determine whether your employer committed a safety violation. If so, they can help you file a complaint with OSHA and will preserve evidence of the offenses to prove how your employer breached their duty of care. 
How Can a Charleston, WV Construction Accident Attorney Help?
Construction accidents can cause devastating and life-changing injuries. As a result, you and your family can experience extreme financial distress due to medical bills and lost income uncovered by workers' compensation insurance, pain and suffering, and other losses. During the worker's compensation claims process, your employer's insurance company may not offer as much compensation as your injuries are worth. To protect you, an attorney can handle every aspect of your claim for you, including if your claim is unfairly denied. They will ensure you recover the compensation you need and deserve. 
A Charleston, WV Construction Accident Attorney will also investigate your accident to determine if a third party contributed to your accident, such as a contractor, property owner, or defective product manufacturer. If so, your attorney can help you pursue a third-party claim for compensation beyond workers' comp benefits. For example, uncovered medical bills, the difference in lost income, diminished earning capacity, pain and suffering, and more. To ensure the third party is held liable, your attorney will preserve evidence (e.g., photos of the scene, surveillance footage of the accident, witness statements, etc.), obtain documentation (e.g., medical records, police report, pay stubs, etc.), speak to witnesses, and hire experts if necessary. They will also help you determine the value of your case and will handle negotiations, so you do not settle for less than you deserve. Your construction accident attorney will also prepare your case for trial if it is necessary to secure a favorable outcome for your case. 
Who Can Be Held Liable After a Construction Accident?
Employers cannot be held legally responsible for a construction accident as long as they carry workers' compensation insurance and did not intentionally cause you harm. As a result, a workers' compensation claim is typically the first option for obtaining compensation after an injury. However, when a third party also contributed to the accident, you have the right to file a personal injury lawsuit for further compensation. Third parties that may be liable, for example, can be the following:
General Contractor, Construction Manager, or Subcontractor  
These parties are legally obligated to provide workers with a reasonably safe construction site and warn of any hazards. 
Property Owners
Property owners have a duty to provide a reasonably safe environment for construction workers on their premises by fixing or warning of known hazards or ones they should have known about. 
Design Professional
Professionals such as engineers and architects are responsible for ensuring their plans are not defective and meet safety standards when designing what is being constructed.
Product Manufacturers and Suppliers
If defective equipment, tools, or materials caused your accident, the faulty product's manufacturer and any other party involved in the distribution chain might be liable. 
Typically, the following factors will be considered when determining liability: 
Location

: Where the injury occurred since construction workers often perform various job duties in many areas. 

Construction Site Conditions

: Whether the job site was safely maintained to OSHA's rules can point to a liable party. 

Condition of Equipment

: If any equipment was involved in the accident, it will be examined for defects and/or a lack of maintenance.

Proper Use of Equipment: Whether another worker was misusing equipment when you were injured.
Site Management

: Who was in control of the site and equipment at the time of the accident. 
A construction accident lawyer can review the facts of your case and investigate if any other parties should be held accountable. Our attorney has considerable experience in workplace and wrongful death lawsuits in Charleston, WV.
Construction Accident Compensation
To fully recover for the injuries and damages you have suffered, you need to calculate the full value of your past, ongoing, and future accident-related losses. For example, in addition to adding up the medical bills you have received, you also need to determine the cost of your ongoing medical care as well as any medical expenses you expect to incur in the future as a result of your injuries. 
Compensation for other losses frequently includes pain and suffering, lost wages, and loss of earning capacity. When construction accident injuries are fatal, surviving family members might be entitled to a financial recovery for their losses, such as funeral expenses, loss of financial support, and loss of the value of the decedent's household services. 
Personal Injury Claims vs. Workers' Compensation Claims in West Virginia
The two options injured construction workers have for recovering compensation after an injury are a workers' compensation insurance claim and a personal injury lawsuit. However, once you accept a workers' comp settlement, you give up your right to sue your employer for negligence (if applicable). 
Workers' Compensation Claims
Workers' compensation benefits are available to most workers through their employer after an injury or developing an illness on the job, regardless of who was at fault. Workers' compensation benefits cover reasonable medical expenses, two-thirds of a worker's average weekly wages, disability, and death benefits, depending on the case. A claim must be filed within six months of a work injury or illness to qualify for benefits, but compensation for pain and suffering is not an option. 
Personal Injury Claims
A personal injury claim is a lawsuit pursued in court and an additional option for compensation under certain circumstances. For instance, if there is evidence that your employer caused you intentional harm, does not carry workers' compensation insurance, or you were harmed by a third party, you have the right to file a personal injury lawsuit. When a third party is liable, you can file a workers' compensation claim as well as a personal injury lawsuit. If your personal injury claim is successful, you can recover compensation for losses that workers' benefits do not cover, including pain and suffering. As a result, your financial recovery may be much more substantial. However, you only have two years from the date of the injury to file a personal injury claim or you will lose your right to further compensation.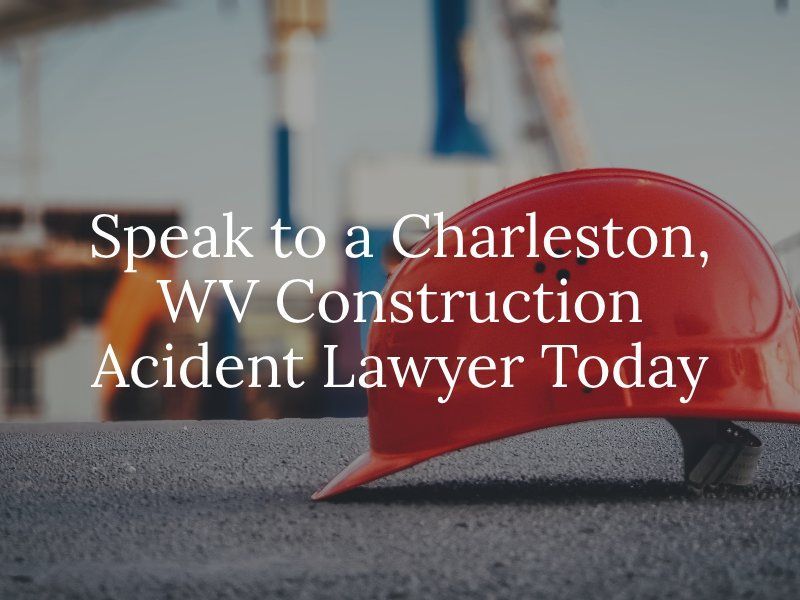 Contact Our Charleston Construction Site Accident Attorney
At Tiano O'Dell, PLLC, we understand how much a construction accident can disrupt your life and lead to significant losses. We vigorously pursue all responsible parties on behalf of our injured clients and their families because we know that your recovery and well-being are directly impacted by the financial compensation you secure for your losses. Contact our office to speak with an attorney today at (304) 720-6700.