Although the law clearly requires every driver to carry insurance in West Virginia, not every driver does. According to one estimate, one in seven drivers does not carry insurance. If an uninsured motorist crashes into your vehicle, causing physical injuries and property damage, what can you do? You look to your own insurance policy. Unfortunately, once you do this, your own insurance company – even if you have been a devoted customer for many years – looks at you from a different perspective. This is so because you now seek monetary compensation from your insurance company. Each West Virginia uninsured motorist attorney at Tiano O'Dell, PLLC has experience representing policyholders who seek compensation from their own insurance companies under the uninsured motorist clause.
What Is an Uninsured or Underinsured Motorist?
An uninsured driver is a driver who does not have any automobile insurance, or who whose insurance did not comply with the state's minimum liability requirements. An underinsured driver is a driver who has the minimum insurance required by law; however, the amount is insufficient to pay for the damages he or she caused to you and/or your vehicle. In West Virginia, drivers must be covered by the following car insurance minimum amounts:
$20,000 for one injury or death per accident
$40,000 for two injuries or death per accident
$10,000 property damage
If you have any questions regarding uninsured or underinsured motorists and how they can affect your legal claim, contact a West Virginia car accident attorney who is experienced in handling uninsured motorist cases.
What to Do If You Were Struck by an Uninsured Vehicle
If an uninsured or underinsured vehicle crashed into your car, contact your car insurance company. Make sure to:
Document the accident with photographs
Get witness statements and obtain the witness's phone number for future reference
Contact the authorities, if you suspect the other driver was impaired
Get a police report for your claim
Speak to your West Virginia uninsured motorist attorney about the accident
Claimable Damages in a West Virginia Uninsured Motorist Case
As a victim of any car accident (whether the motorist was insured or not), you are entitled to bring a case against the party responsible for your injuries. You may file a claim for:
Future earnings
Medical expenses
Lost wages
Rehabilitation expenses
Pain and suffering
Vehicle damage
Emotional distress
After an accident, your immediate focus should be on your health and recovery. The West Virginia uninsured motorist attorneys at Tiano O'Dell, PLLC will handle all of the complex details involved in a car accident claim, especially those in which the negligent driver was uninsured.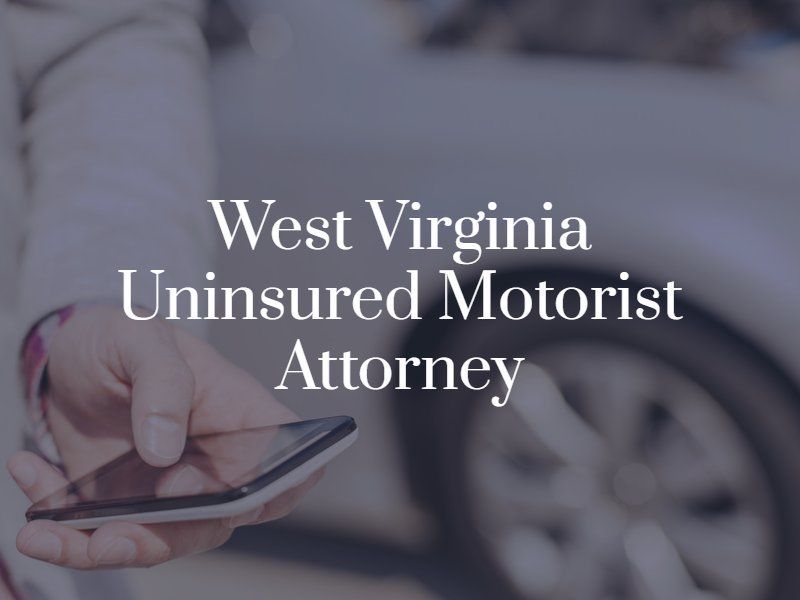 Contact Our Uninsured Motorist Lawyers in West Virginia
Even if an uninsured motorist caused an accident, it may be possible to obtain compensation for the damages caused by the driver. The Charleston personal injury attorneys at Tiano O'Dell, PLLC can help you secure a judgment against the uninsured party. Even if the uninsured motorist claims that he or she has no money or resources, there may be assets available including real property, monetary funds, future annuities, and other forms of income. An investigation into the uninsured's resources may be possible. It will cost you nothing to discuss your case; there are absolutely no fees unless we win your case. Tiano O'Dell, PLLC offers a complimentary consultation in which you can ask questions and review possible legal options specific to your case. To schedule your appointment, call our office at (304) 720-6700 or contact us online today.