West Virginia Car Accident Lawyer
---
Car Accident Lawyers Serving Charleston and All of West Virginia
If you or a loved one was injured in a car accident that occurred as a result of another's negligent conduct, you may seek compensation in a personal injury lawsuit. At Tiano O'Dell, PLLC, our attorneys know that car accidents commonly occur because of driver inattention, also known as distracted driving, and a West Virginia car accident lawyer is here to help if you've been injured due to another's negligence. According to Distraction.gov, distracted driving is defined as:
"…any activity that could divert a person's attention away from the primary task of driving."
"All distractions endanger driver, passenger and bystander safety."
Every driver has the responsibility and duty to pay attention to the road and to the other vehicles in its proximity. If a driver crashed into your vehicle, you may seek compensation for your injuries and other expenses. The West Virginia personal injury lawyers of Tiano O'Dell, PLLC represent victims who were injured by negligent drivers.
West Virginia Car Accident Statistics
If you regularly drive in West Virginia, keep these car accident statistics in mind. Data on state car crashes help personal injury attorneys prove certain facts in a case. Statistics may also help you reduce your risk of injury on the roadways.
Fatality Rates: National vs. West Virginia (2006-2015)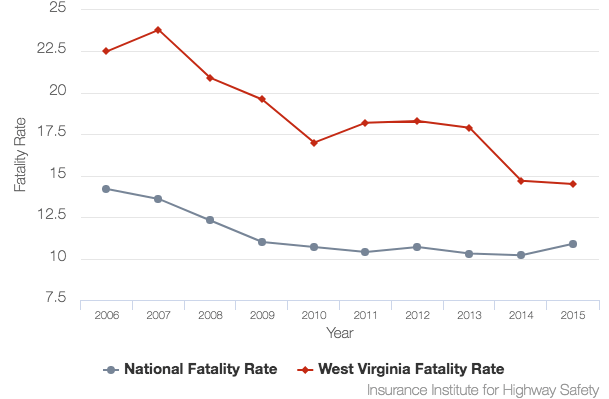 These statistics illustrate the overall picture of car accidents in the state of West Virginia:
In 2015, 268 people lost their lives in traffic Since 2006 (when the state recorded 410 deaths), the number of fatalities has consistently fallen. As an overall trend, the state is making progress National Highway Traffic Safety Administration (NHTSA).
Of all passenger vehicle fatalities that year, 99 individuals were unrestrained compared to 72 who used restraining systems (NHTSA). Across the country, more than half of those who died in 2014 were unrestrained. Seat belts cut instances of injury and death in half, making them an important safe driving practice (CDC). A state seatbelt survey from 2015 indicates that 89% of drivers and front seat occupants use seatbelts – a significant rise over previous years.
Of the 268 fatal crashes recorded in 2015, 71 (or 26%) involved alcohol impairment (NHTSA).
The majority of fatal crashes in the state in 2015 involved roadway departures (191), single vehicles (160), and rollovers (88) (NHTSA).
With little current information on injuries, contributing factors, and geographical concentrations, drivers must look to the news and state resources to improve road safety on an ongoing basis.
To gain a clearer picture of the accidents, drivers can dial 511 at any time or look at the state's incident reporting system.
Why Auto Accidents Happen in West Virginia
In West Virginia and across the country, injuries and fatalities often connect back to the same set of contributing factors. Speeding, driving while distracted, or driving while impaired increases the risk for reckless driving behaviors and the possibility for accidents. In addition to these driver error-related causes, drivers must watch for wildlife crossing the road (particularly in the early morning and at night).
In October 2016, a man lost his life on I-70 after hitting a deer in the roadway. After the initial impact, a tractor trailer struck the man's car, ejecting him. Also in October, the media reported an incident in Princeton where high speeds contributed to a single car rollover. The vehicle's occupants walked away from the scene, but the accident could have taken someone's life.
Every incident reported in your local area and at the state level offers insights into why accidents happen in West Virginia. You may start to notice that the majority of incidents involve human error. At Tiano O'Dell, PLLC, we represent individuals who suffer preventable injuries in these accidents. Safe drivers do not deserve to suffer at the hands of careless and reckless drivers.
Preventing a Car Accident in West Virginia
In keeping with the state's statistics and reputation as a high fatality car accident area, we have compiled some safety tips you can use on the roadways every day:
Wear your seatbelt and ask others to do so. In the event of an accident, a seatbelt could save your life. Turn the practice into a habit, and wear one every time you drive.
Avoid driving at high-risk times. According to the NHTSA, rush hour (3–6 p.m.) accounts for the highest rate of traffic incidents, and Saturday is the riskiest day of the week. In addition to these hours, use extra caution when driving in low light conditions. According to data collected at State Farm, driving in West Virginia puts you at a higher risk for colliding with a deer. As of 2015, the odds of hitting one in the state are 1 in 44.
Leave mobile devices alone. Ask a passenger to handle your phone for you or pull over to make a call, text, or check apps. While many acts can distract you from driving, mobile devices account for a large number of distracted driving-related incidents.
Safe and defensive driving will reduce the likelihood of an accident, but it cannot completely eliminate the risk. After an accident involving a negligent driver, consider discussing your case with one of our car accident attorneys in West Virginia.
Common Causes of Car Accidents
Some of the most common causes of car accidents include:
Speeding
Failure to yield right of way
Failure to stop at stop sign
Rubbernecking
Driver fatigue
Running red lights
Road defects
Vehicle improperly maintained
Dangerous weather and driving conditions
Inexperienced and/or unlicensed drivers
Tailgating
Other
Distractions That Frequently Cause Car Accidents
According to Distraction.gov, there are many types of distractions that cause car accidents, including:
Texting – one of the most deadly forms of distracted driving, causing injury and death
Grooming – looking in the mirror, putting on makeup
Reading – even looking at a map creates
Talking with passengers instead of focusing on driving
Radio, CD, or other sound equipment distraction
Watching a video while driving
Eating and driving takes the driver's hands off the steering wheel
Talking on a cellphone – the source of many accidents
If you were injured because another driver was engaged in a distracted driving behavior, injured victims may benefit from collecting contact information from all available witnesses. It may be helpful to take photos of the accident scene. Your West Virginia car accident lawyer at Tiano O'Dell, PLLC may seek cellphone records to confirm that the other driver was distracted at the time of the accident. Tiano O'Dell, PLLC utilizes the most advanced technology during case investigations. If the incident involved a semi or commercial truck please see our West Virginia Truck Accident Lawyer page.
What to Do After a Car Accident in West Virginia
Many car accidents involve screeching tires, the point of impact, and the moment your vehicle comes to a rest. Adrenaline sets in, and you may feel numb or in shock. If you know what to do immediately after a car accident, you can confidently take control of the situation and protect your rights on the scene. As West Virginia car accident attorneys, we recommend taking these steps if you experience a car accident in our state:
Don't attempt to move too quickly. First, take inventory of your own injuries. Slowly move your limbs, feel your head, and use a mirror to gauge your situation. If you think you've suffered a serious injury, do not attempt to move. If you do not see any serious or life-threatening symptoms at the moment, move your vehicle out of oncoming traffic, but close to the scene.
Stay at the scene. Do not leave the scene of an accident until either a law enforcement officer finishes reporting the scene or you and the other driver exchange all necessary information. You must report all accidents to local police, a county sheriff's office, or the state police within five days of the incident if anyone suffered an injury or if a driver sustained a minimum of $500 in property damage.
Offer your assistance. Ask those involved if they are okay and if they need assistance. Administer first aid as needed, but do not move injured people (unless they face a dire emergency). Call 911 to report the accident. Provide as many details about the scene as possible to assist emergency responders.
Exchange information. In accidents involving other drivers, write down names, addresses, contact numbers, insurance information including the company name and policy number, the license plate numbers of vehicles, and vehicle owner names. In accidents involving professional drivers, collect the name of the company and any professional identification information.
Gather additional information. Detailed records will improve your ability to file an insurance claim or a formal lawsuit. Records can also help you defend yourself if another driver chooses to cite you as the at-fault driver. Write down the names and contact information of witnesses at the scene as well as the names and professional identification information of officers and emergency personnel. Record accident report information, including the number of the report. Accident report processing can take time, and you may need to access the report to file a claim later.
Stick with the facts. Accidents happen quickly. You may not remember the events as they occurred, but as you perceived them. Do not admit fault, do not tell other drivers you are sorry, and do not speculate about what happened to police officers. Explain your location prior to the incident, what you recall from the movement of vehicles during the accident, and any contributing factors you concretely remember (i.e. it was raining, it was foggy, traffic was light, etc.).
Record as much of the scene as possible. If you have a mobile device capable of taking pictures or video, take the time to record the scene. Take pictures after major accidents as well as minor fender benders. Photograph your injuries, vehicle damage, the overall scene, weather conditions, and the items in your vehicle.
Go to your doctor. If you do not go to the hospital immediately after an accident, do see your physician. Minor accidents including rear-end accidents can cause whiplash injuries you may not feel in the immediate aftermath. Some muscle and brain injuries may manifest days after the incident. Tell your attending physician about the accident to maintain medical records associated with the incident. If you refuse medical attention, an insurance adjustor or the liable party may argue your injuries happened elsewhere.
Take these steps after every car accident in the Mountain State. At Tiano O'Dell, PLLC, our West Virginia car accident lawyers will help you navigate the complexities of handling a car accident as soon as you hire us as your personal injury attorneys.
Call a Charleston Car Accident Attorney for a Consultation
At Tiano O'Dell, our car accident lawyers offer a complimentary case evaluation at which you can discuss your case and ask questions. We are a plaintiff's rights law firm, dedicated to helping our clients pursue the compensation they deserve. You may seek compensation for your injuries and expenses, including medical expenses, pain and suffering, lost income, property damage, and more. While the great majority of cases are successfully negotiated out of court, if the insurance company or other liable party does not offer a fair and reasonable settlement, we will not hesitate to take the case to trial. There are no legal fees unless we win your case. To schedule your complimentary case evaluation, contact Tiano O'Dell at (304) 720-6700 or contact us online today.