Benzene is a known carcinogen that can cause cancer in humans. Recently, an independent report detected high levels of benzene inside various popular brands of sunscreen. Recalls have been issued by Johnson & Johnson for these sunscreens, but many others products containing benzene are still on the shelves being sold to consumers. If you have been exposed to benzene in sunscreen and have subsequently been diagnosed with cancer, you may be entitled to various types of compensation through a benzene sunscreen lawsuit.
You can contact Tiano O'Dell for a free consultation of your case so we can help you determine the best steps moving forward. We want to make sure that you are properly cared for throughout this process.

Benzene Sunscreen Recall Resources:
What is Benzene?
According to the U.S. Centers for Disease Control and Prevention (CDC), we can see that benzene is a chemical that is a known cancer-causing carcinogen in humans. Benzene can lead to cancer because it causes cells to not work correctly. Benzene can cause bone marrow to not produce enough red blood cells, leading to anemia. It can also damage the immune system by changing blood levels of antibodies and causing a loss of white blood cells.
Why is there a Johnson & Johnson Benzene Sunscreen Recall?
In May of 2021, independent lab Valisure detected high levels of benzene in various brands of sunscreen as well as in various types of after-sun care products. According to a statement put out by Valisure, we can see that calls have been made to further regulate the use of benzene in sunscreen and sun care products. The testing authorities said that:
"Being that many of the tested sunscreen and after-sun care products did not contain detectable levels of benzene, it does not appear that benzene use is unavoidable for their manufacture. . . therefore, any significant detection of benzene should be deemed unacceptable."
Which Sunscreens Have Been Recalled?
The following sunscreens were recalled on July 14th, 2021 by Johnson & Johnson:
Aveeno® Protect + Refresh aerosol

Neutrogena® Beach Defense® aerosol

Neutrogena® Cool Dry Sport aerosol

Neutrogena® Invisible Daily™ defense aerosol

Neutrogena® Ultra Sheer® aerosol
The Link Between Sunscreen and Benzene
Benzene is a naturally forming chemical that is sometimes used as a starting point for various substances, including lubricants, detergents, dies, pesticides, plastics, etc. According to the American Cancer Society (ACS), benzene can increase the risk of cancer, and research has found a potential link between benzene and the following:
Leukemia

Acute myeloid leukemia (AML)

Acute lymphocytic leukemia (ALL)

Chronic lymphocytic leukemia (CLL)

Multiple myeloma

Non-Hodgkin lymphoma
As of this writing, only a few Johnson & Johnson sunscreens have faced recall after the discovery of benzene. However, there are various types of sunscreen and after-sun care product brands that could be affected by this cancer-causing carcinogen, including the following (in alphabetical order):
Aveeno

Babyganics

Banana Boat

CVS Health

EltaMD

Equate

Ethical Zinc

Fruit of the Earth

Goodsense

LaRoche-Posay

Live Better by CVS Health

Max Block

Neutrogena

Raw Elements

Sun Bum

TopCare Everyday

Walgreen's
How Long Do You Have to File a Claim?
It is incredibly important to work quickly when filing a lawsuit related to benzene inside of sunscreen or another type 
of suncare product. These cases will likely move rapidly. Right now, it is too early in the process to tell whether or not this will become a class-action lawsuit, but there is a good chance that it will. It is important to get in early on these cases to have the best chance at recovering maximum compensation. We strongly encourage you to contact one of our benzene sunscreen lawsuit lawyers for help with your case as soon as possible. We offer free consultations, and we will help you determine the best steps moving forward for your particular claim.
Why Turn to Tiano O'Dell for Help With Your Claim?
At Tiano O'Dell, we have years of experience handling complex personal injury and product liability lawsuits on behalf of clients in West Virginia and throughout the US. 

We focus on providing a personalized approach to every case, which means that we take the time to listen to every clients' goals and needs as we move forward with their claim.

We strive to ensure that there is open communication between every client and their attorney, and we are always available to answer any questions or concerns clients may have.

We take benzene sunscreen lawsuit cases on a contingency basis. This means that clients will not owe any legal fees until after we obtain the compensation they need.
How Will an Attorney Help a Benzene Sunscreen Recall Case?
Benzene lawsuit claims can become incredibly complex, and it is important to understand that these sunscreen companies have the backing of insurance carriers and well-funded legal teams. You need to have an attorney by your side who can match these resources and help ensure that you have the best chance possible for success. An attorney will be responsible for:
Making sure that your claim gets filed on time and with the appropriate court of jurisdiction.

Fully investigating your sunscreen use and work to establish a link between benzene and any side effects you may have developed, including cancer.

Enlisting the assistance of trusted medical professionals who can conduct a complete evaluation of your health situation.

Negotiating with aggressive insurance carriers and legal teams in an effort to recover the compensation you are entitled to. 

Fully preparing to take your case to trial if necessary to ensure that you receive fair treatment.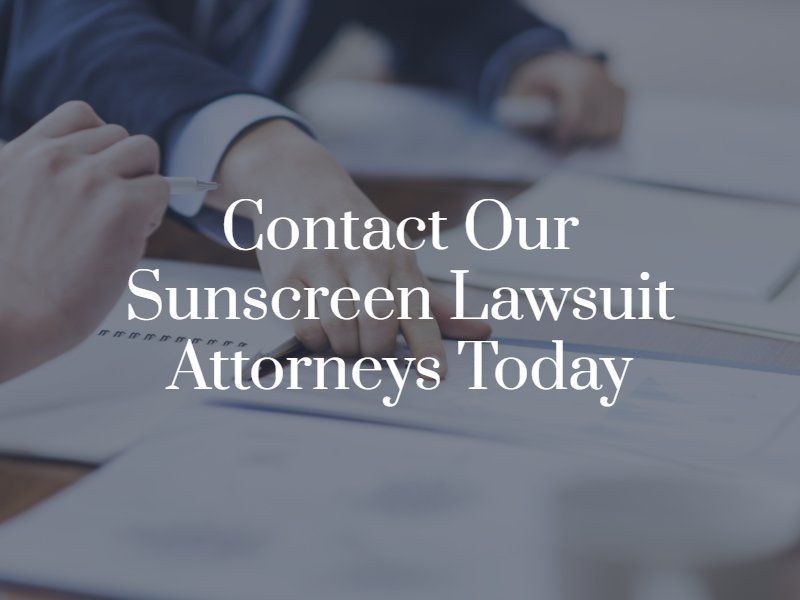 Call a Benzene Sunscreen Recall Attorney Today
If you or somebody you care about has been exposed to benzene in sunscreen or another type of suncare product and has also been diagnosed with cancer, you may qualify for a benzene sunscreen lawsuit. At Tiano O'Dell, our team of West Virginia personal injury lawyers is standing by to help ensure that you receive the help you need to get through this. We understand how complex these types of product liability lawsuits can become, and we want to make sure that you have a team that can fully investigate these cases in order to recover the compensation you are entitled to. When you need a benzene sunscreen lawsuit attorney, you can contact us for a free consultation by clicking here or by calling us at (304) 720-6700.