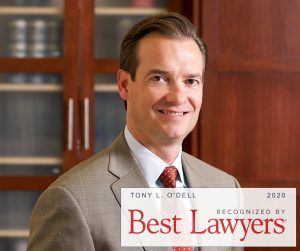 Tony O'Dell of the Charleston-based law firm, Tiano O'Dell PLLC, will be featured in the 26th Edition of The Best Lawyers in America for his high caliber work. O'Dell now ranks among the top five percent of private practice attorneys nationwide, as determined by his peers.
With over 25 years of experience, O'Dell has handled multi-million dollar cases involving, medical malpractice, wrongful death, car crashes, nursing home neglect and abuse, insurance bad faith, and truck crashes.
O'Dell received his bachelor's degree in Business from Marshall University and obtained his law degree from the West Virginia University College of Law in 1991. He was admitted to practice law in West Virginia's state and federal courts later that same year.
In the past, O'Dell was named one of the Top 100 Trial Lawyers by the American Trial Lawyers Association and was inducted into the West Virginia Super Lawyers in 2014. Tiano O'Dell PLLC also holds an AV rating from Martindale-Hubell, which recognizes the firm for their strong legal ability and high ethical standards.
O'Dell's name and practice featured in Best Lawyers in America is impressive as the publication is regarded as the most credible measure of legal integrity and distinction in the United States by both the profession and public. Recognition by Best Lawyers symbolizes excellence in practice.
Best Lawyers is based on a rigorous peer-review survey comprising more than 8.2 million confidential evaluations by the top attorneys. By receiving this recognition, O'Dell now has the privilege to participate in voting for next year's edition.