If you or a loved one must seek medical care, the last thing that you should have to worry about is a mistake being made that will cause an injury or illness. Unfortunately, preventable medical errors are not uncommon in the United States. At Tiano O'Dell, we are here to help if you need a Morgantown medical malpractice lawyer by your side. Our personal injury attorneys in West Virginia have the resources necessary to conduct a complete investigation into medical malpractice claims so we can help our clients secure the compensation they are entitled to for what happened.
Morgantown Medical Malpractice Resources
To instantly access the resources at any point on this page, please click the corresponding link below.
Elements of a Medical Malpractice Case
Requirements for Filing a Medical Malpractice Claim
Common Types of Medical Malpractice
Potential Compensation Available
Time Limits for Medical Malpractice Cases
Are There Limits on Compensation in West Virginia?
Speak to an Attorney Today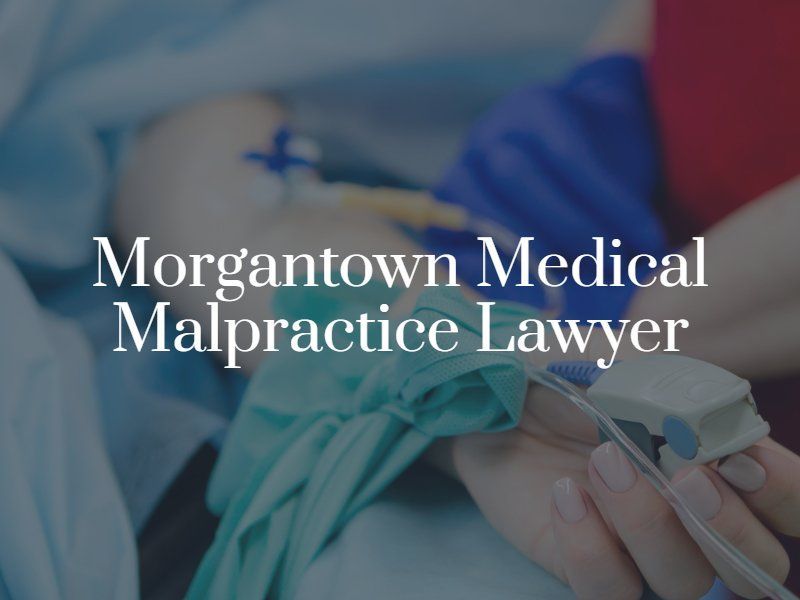 Elements of a Medical Malpractice Case
Researchers at Johns Hopkins University have stated that medical mistakes are the third leading cause of death in the country. There are various actions that medical providers can take that constitute malpractice, including, but not limited to, the following:
Failure to diagnose
Misdiagnosis
Surgical mistakes
Anesthesia mistakes
Healthcare-acquired infections
Failure to prevent patient falls
Failing to obtain informed consent
Prescription medication mistakes
Obstetrical errors
Four elements of medical malpractice claims must be present for a case to be valid:
Duty. In order for a claim to be valid, there must have been a doctor-patient relationship established between the victim and the alleged negligent provider.
Breach. It needs to be shown that the doctor somehow breached their duty of care. Showing this requires proving that the doctor failed to provide an adequate standard of care to the patient, which will be judged by analyzing how a similarly trained professional would have acted in similar circumstances.
Causation. If there was a breach of care by the medical professional, it will also need to be shown that the breach directly caused the patient's injuries or illness.
Damages. Finally, it needs to be shown that the patient suffered some sort of monetary loss as a result of the medical malpractice.
What Are the Requirements for Filing a Medical Malpractice Claim?
In most medical malpractice claims filed in West Virginia, you need an expert witness to provide testimony to support your case. Generally, a medical expert witness must provide testimony about what the applicable standard of care was and how the defendant medical provider failed to meet it. The expert witness must meet the following requirements:
The expert holds an opinion about the standard of care and the defendant's failure to meet it

The expert can testify to the opinion with reasonable medical probability

The expert has professional knowledge, expertise, and knowledge of the applicable standard of care that their expert testimony will discuss

The expert's opinion is based on scientifically valid peer-reviewed studies

The expert has a current license to practice medicine in a state of the United States and it has not been suspended or revoked

The expert is engaged in or qualified in a medical field and has experience or training in diagnosing or treating injuries or conditions similar to those that you have
Additionally, to have a rebuttable presumption that the person is qualified as an expert witness, they must spend at least 60% of their professional time in active clinical practice or teaching in the medical field at an accredited university. 
Common Types of Medical Malpractice in Morgantown, West Virginia
There are various types of medical malpractice that can occur. Some of the most common types of medical malpractice in Morgantown, West Virginia are:
Misdiagnosis

– A healthcare professional may fail to run tests or misinterpret symptoms and diagnose you with a condition you do not have. This type of error can cause two main types of injury to patients. First, the patient may be receiving treatment for a condition they do not have. Second, the patient may not receive the treatment that they really need.

Delayed diagnosis

– A delayed diagnosis arises when a healthcare professional fails to promptly diagnose the patient's diagnosis, which can lead to an exacerbation of symptoms.

Birth injuries

– Medical professionals may make mistakes during the labor or delivery process, such as delaying a medically necessary C-section, failing to recognize signs of fetal distress, negligently using forceps or a vacuum extractor, or making other mistakes. 

Surgical errors

– Even surgeons can make mistakes that cause a patient harm, such as performing surgery on the wrong site of the body, leaving surgical instruments in a patient, or puncturing a nearby organ during surgery.

Hospital errors

– Hospitals can be responsible for lacking quality control, not instituting proper hygiene measures, or making administrative mistakes that harm patients. They can also be held responsible for the negligent actions of their employees. 

Post-operative errors

– Sometimes healthcare mistakes occur after surgery. A healthcare professional may fail to provide proper post-operative instructions and cause injury to the patient.  

Medication errors

– Healthcare providers may prescribe the wrong type of medication, dosage, or administration method. 

Anesthesia errors

– Healthcare providers who make anesthesia errors may not provide enough medication so that the patient is aware and can feel the medical treatment. Alternatively, the healthcare provider may administer too much medication, causing the patient to never wake up.
An experienced medical malpractice lawyer can investigate the actions leading up to malpractice and who is responsible for the harm you've incurred.
Types of Compensation Available
There may be various types of compensation available to medical malpractice victims in Morgantown, West Virginia. Damages could include the following:
Complete coverage of medical bills resulting from the malpractice
Lost income if a victim is unable to work while they recover
General household out-of-pocket expenses
Pain and suffering damages
Loss of quality of life damage is
The total amount of compensation available will vary depending on the facts and circumstances surrounding the particular case. In general, the more severe the injury or illness, the more the claim will be worth.
Time Limits for Medical Malpractice Cases
The West Virginia medical malpractice statute of limitations is two years from the date the incident occurred. This two-year timeframe begins at the time of the incident occurred or from the date when the patient reasonably should have discovered an injury or illness caused by medical malpractice.
Are There Limits on Compensation in West Virginia?
In West Virginia, there are no limitations on the total amount of economic damage compensation available to medical malpractice victims. This includes coverage for medical bills, lost wages, and other calculable expenses. However, West Virginia does place a cap on the non-economic damages that can be paid out in medical malpractice claims. This includes how much can be paid out for pain and suffering, mental anguish, loss of enjoyment of life, etc.
The West Virginia medical malpractice non-economic damage cap is $250,000. This cap rises to $500,000 for wrongful death claims or serious permanent or injury as a result of medical malpractice.
Contact a Morgantown Medical Malpractice Attorney
If you or somebody you love has been injured or become ill due to the careless or negligent actions of a medical provider in Morgantown, West Virginia, contact the team at Tiano O'Dell. Our attorneys have the resources necessary to conduct a full investigation into your claim. Call our Morgantown medical malpractice attorneys for a free consultation today.